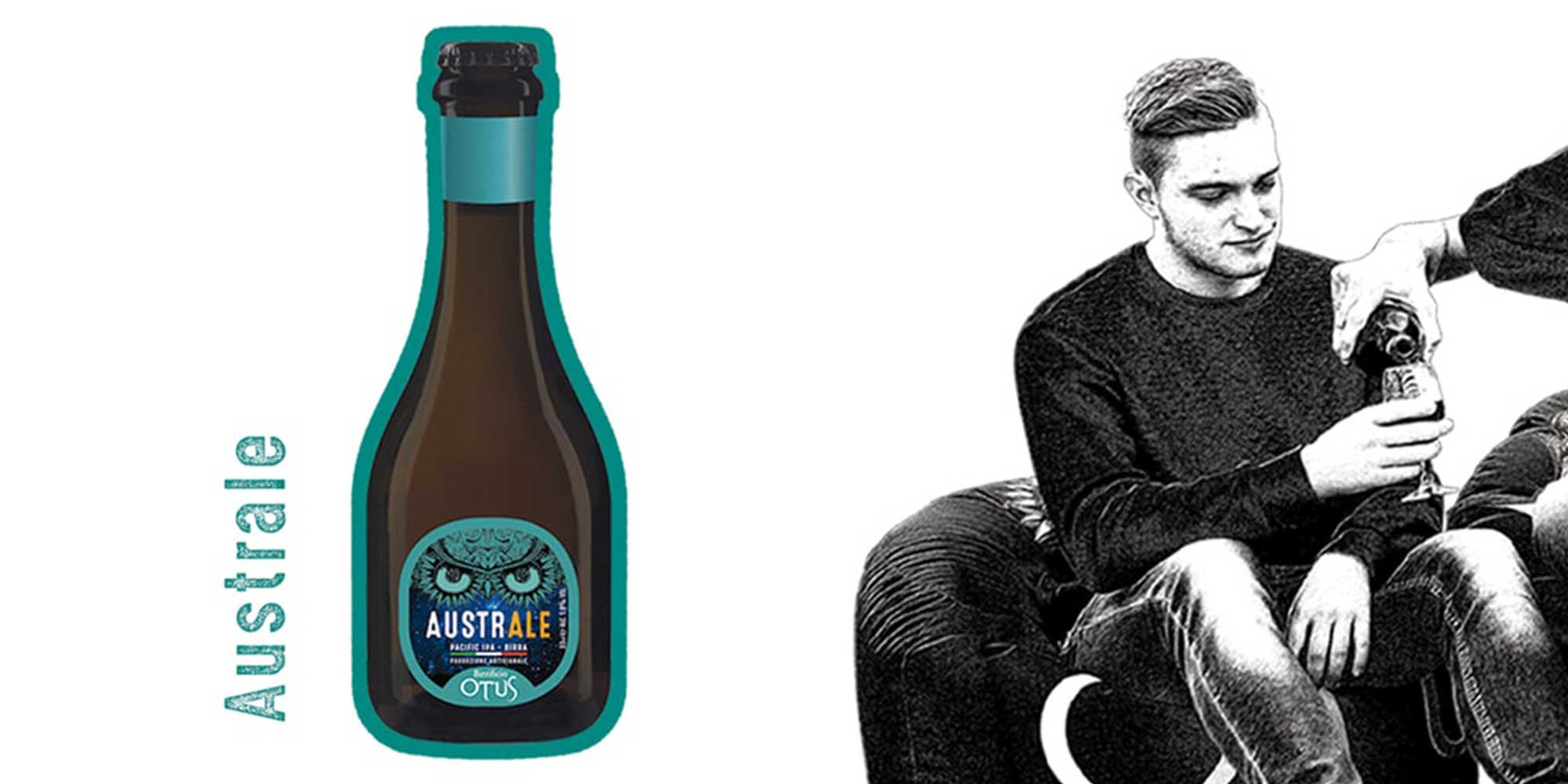 Australe
A Pacific IPA with an amazing taste.
The new IPA by Otus has a strong character, but also mellow colours and aroma, a finely balanced bitterness and a moderate alcoholic content. It is deliciously drinkable.
Research carried out by Otus brewery from Seriate brought to a new product, a new Pacific Pale Ale that will be launched with the name Australe. The American Azzacca and Eureka and the Australian Enigma hops play a leading role in this new beer, by releasing hints of tropical fruit, pine needles, resin and spices. The delicate Pils, Caramel Aromatic and Caraamber malts balance the sensory experience with floral, citric and spiced aromas. The whole thing is soft and delicate.
AUSTRALE is a pale amber beer with orange glares and fine foam. It is compact and lasting, scented and intriguing, fine in aromas. The balanced bitterness and the alcoholic content make it deliciously drinkable. The beer could be slightly opaque due to yeasts.
Australe will not disappoint gourmets: it is not only a table beer but also perfect for convivial gatherings and meditation moments. It can be paired with spiced courses, cold cuts and boiled or grilled meat.
With Australe, Otus brewery confirms his attitude towards research and perception of the taste evolution. However, this inclination to create new recipes and anticipate the consumers' preferences is still anchored in the deep knowledge of over-the-centuries-improved styles; it is a dialectic relation between tradition and evolution that fascinates craft-beer lovers, who are better and better informed, culturally careful and demanding.
"We do like exploring the endless taste variations. When we finish perfecting a beer, we take our time to taste it and comment on it with friendliness, looking forward to understanding if the public appreciates it while being satisfied with our job" stated Alessandro Reali while narrating his passion for his profession, the brewmaster. A passion that becomes a desire of constantly improving techniques and production processes, because time is the real added value of craft-beer production, as declared by Anna Cremonesi, vice president of the Otus board of directors: " The scale, the complexity and the harmony which make every Otus unique are the result of a special ingredient: time. Research, production and ripening takes time".
For those interested to taste the new Otus product, Australe will be available from February 2018.