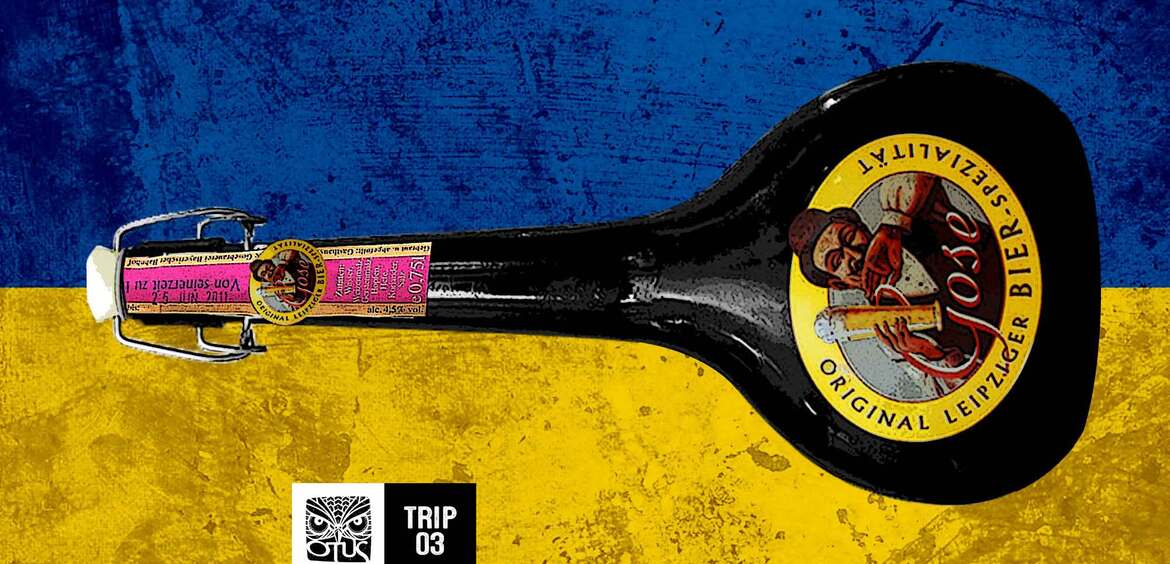 Leipziger Beer | a pinch of salt and a pinch of fortune
The lost and found recipe: the adventurous story of Gose beers, from the origins to the creative interpretations of contemporary brewmasters.  

Nowadays savoury beers stimulate brewers' creativity and satisfy the taste of several connoisseurs. However, fortune has not always favoured salted beers: during last century this brewing tradition risked to vanish forever. We invite you to go back and look around with us among those events that marked Leipziger Beer birth and evolution.
Gose was born at the end of 10th century in Goslär, a Lower Saxony mining city, where it was appreciated by miners, bourgeoise and even by Holy Roman Empire emperors. Near Goslär, in addition to precious metals' deposits, there were also salt caves that have been used since ancient times and local water is salty, to such an extent that brewers were forced to experiment several solutions and perfect the recipe to the point that sapidity became pleasant to the taste. This beer became famous with the name of Gose river that crossed the city. 
During the next centuries, when silver deposits were drained, Goslär inhabitants migrated to other German cities and Gose beer production was reduced. To follow the events, moving to Leipzig is necessary.
Leipziger brewers created Leipziger Gose.
One of the most desirable destinations for those Goslär inhabitants who were looking for a job was Leipzig. Here, among others, brewers  that were qualified in salted beedr production arrived. At a distance of almost two-hundred km from water that gave origin to Gose, they looked for a way of reproducing its taste artificially. So Leipziger Gose was born. 
Double-fermentation and long-necked bottles, Leipziger brewers' technique.
Leipziger beer is wheat-based and characterised by the addition of salt and coriander. Fermentation is natural because the production method do not include the boiling phase, so wort is not sterilised and bacteria remain inside to acidify it naturally (later in time until today acidity is usually obtained through selected lactic bacteria injection).
When Leipziger brewers delivered the product in wooden casks, fermentation was still underway and went on in taverns. Tavern keepers stocked the casks in dedicated cellars and they left casks opened to check fermentation; when foam stopped to overflow, they transferred beer to special bottles with an exceptionally long and narrow neck, where, if not closed, a second fermentation took place during which yeasts were pushed up by carbon dioxide bubbles until building a kind of natural cork that preserved carbonation.
"Ale" yeasts are defined as highly fermented because they tend to crop out on beer surface. The method was gradually improved until they obtained a beer similar to the one from Goslär, but with a more delicate taste.   
We went from a beer, the original one from Goslär, whose savoury hints were the result of the relationship between man and territory peculiarities, to a beer, the one from Leipzig, that was created expressly to imitate another one. The Leipziger one is the first Gose-style beer.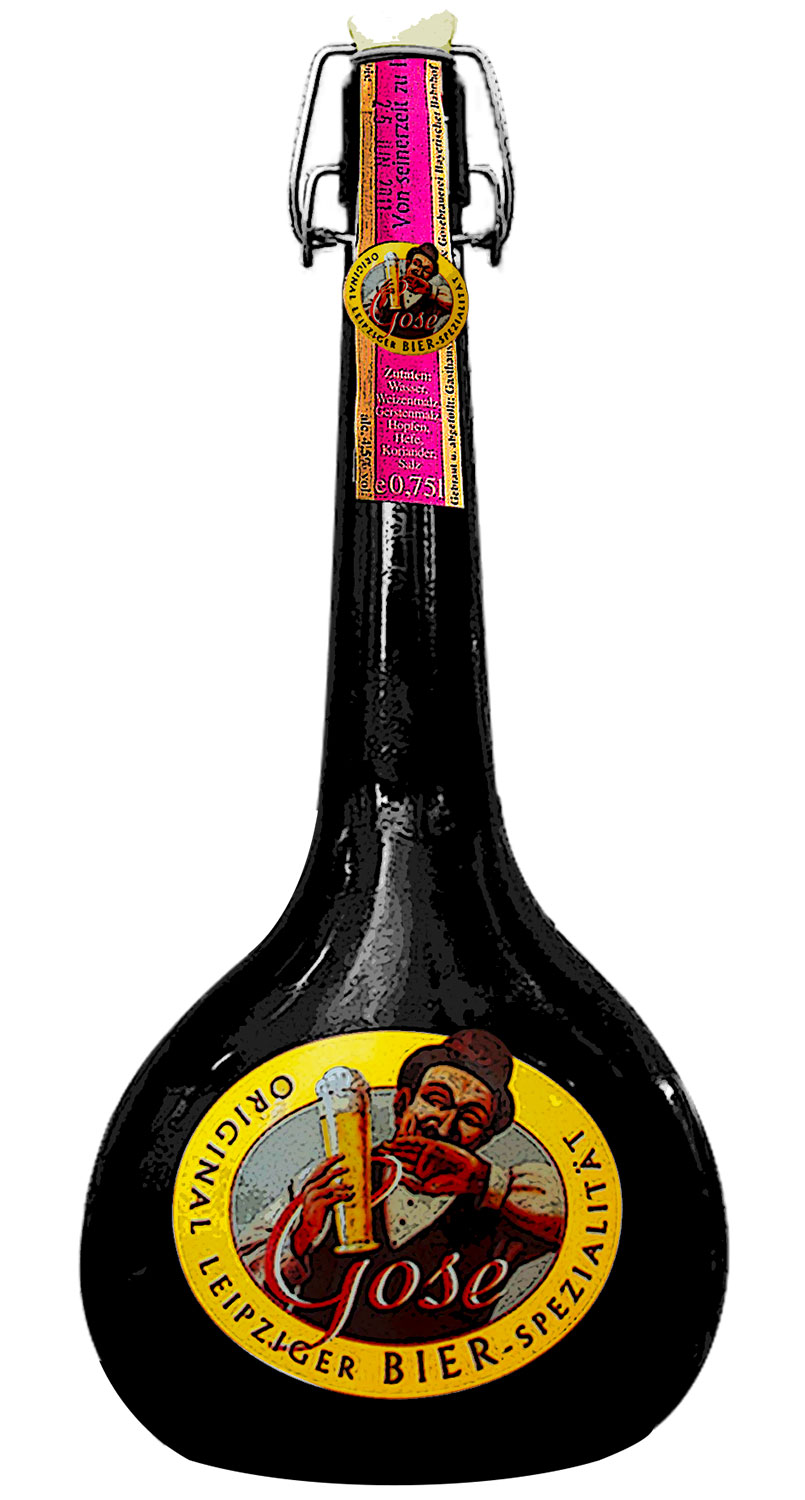 Dirk Van Esbroeck, CC BY-SA 3.0 <https://creativecommons.org/licenses/by-sa/3.0>, via Wikimedia Commons
Goseschenken, at the beginning of the Twentieth century there were more than eighty beer-serving pubs. 
The success of Leipziger beer is recorded some centuries after the derogation of Reinheitsgebot (Purity Order enacted in 1516 by William IV of Bavaria, who imposed to brew exclusively with barley malts, hops and water), that allowed Brauers of the city to produce beers that were similar to Gose.  
Leipziger Gose success is such that in 1826 Goslär municipality decided to forbid the production in its territory to cope with rivalry. 
During the XIX century, the most important Gose producer is Rittergut Döllnitz, a brewery owned by Johann Philipp Lederman who, already brewer in Goslär, moved to Leipzig in 1824. Rittergut Döllnitz have produced salted beer for more than a century, until 1945. 
At the beginning of the Twentieth century, Leipziger salted beer was the most widespread beer in Saxony, there were more than eighty pubs serving Gose in the city, but history was preparing nasty surprises for the German population and the entire world; Leipziger beer was entering in its most difficult period.  
Between 1914 and 1945, during the world wars, beer production in Germany decreased dramatically, because cereals were mostly intended to satisfy population's hunger, that was exhausted by the economic and social crisis, by wars and bombings. Many breweries, even though surviving war events, were not able to continue their activity. In 1945 Döllnitz Ritterguts Brauerei was closed, the last Gose producer in Leipzig. 
Four years later, in 1949 Friedrich Wurzler – who worked for Döllnitz Ritterguts – opened the Friedrich Wurzler Brauerei, a small brewery whose production was stopped some years later, in 1966.   The last Gose was served on 31st March of the same year at Fröhlich Hotel in Leipzig. It's the death blow of a brewing tradition that dates back to Middle Ages, knowledge and experience that were gathered in a millennium fell into oblivion.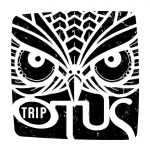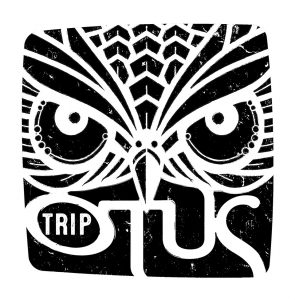 If we can taste a Gose today, it's mainly because of the determination of a professor at Leipzig University, Lothar Goldhahn.
Leipziger Gose was saved thank to the perseverance of the professor Lothar Goldhahn. 
In 1983, articles about the glorious story of Leipziger Gose and Gosenschenken appeared on the news and passion started bursting in Goldhahn: he tracked down an old employee of Friedrich Wurzler Brauerei and he managed to "rebuild" the recipe. It will be more difficult to convince other breweries of the city to start producing the ancient beer, whose taste has been already forgotten by the public. The idea of selling a salted beer appeared bizarre and no producer joined the initiative. In 1986, Berliner Schultheiss-Weisse-Brauerei decided to start producing Gose, but the beer was not sufficiently appreciated by the consumers. During that short period, Goldhahn could finally have the satisfaction of tasting Bayerischer Bahnhof salted beer produced in Berlin and tapped in the historic pub Ohne Bedenken in Leipzig.   
Though, the activity of Lothar Goldhanh spread curiosity and interest; Andreas Schneider, a Bavarian brewer, has been the first one to believe in the rescue of this peculiar Saxon brewing tradition: in 1999 he opened Bayerischer Bahnhof, a modern Gosenschenke in the old Leipziger railway station. The slightly savoury taste of Leipziger Gose was appreciated by many people and three years later Döllnitzer Ritterguts Gose was back to the market. This event is crucial: after that we watch a gradual revival of Gose style, that now counts several qualified interpretations all over the world, different from each other thank to the possibility of choosing among several types of salt. The recipe was progressively perfected adding lactic bacteria.  
Gose style inspires contemporary brewmasters. 
At the end of this brief reconstruction of the history of salted beers, those who were not lucky enough to taste salted beer are wondering about the taste. We asked Alessandro Reali – OTUS brewmaster- to describe contemporary Gose.
Gose's taste
(a description by Alessandro Reali).
"Gose is a high-fermented beer, whose main ingredients, with the exception of water, are wheat and barley malt, coriander and salt dosage are essential.
To the nose we notice spicy notes of coriander, citric and lactic ones from lactic bacteria fermentation and fruity and spicy ones from yeast; bouquet is completed with delicate hints of cereal and corn. To the taste acidity is detectable and freshness feeling is exalted by a high carbonation. Slight sapidity gives balance, rounded mouthfeel and complexity. Overall it is a drinkable and thirst-quenching beer.
The aspect slightly changes from gently shaded to cloudy, colour is usually pale straw-yellow, foam is white and compact".

Cover image: [url=https://commons.wikimedia.org/wiki/File:GoseLeipzig.jpg][img]https://upload.wikimedia.org/wikipedia/commons/thumb/5/52/GoseLeipzig.jpg/256px-GoseLeipzig.jpg[/img][/url][url=https://commons.wikimedia.org/wiki/File:GoseLeipzig.jpg]GoseLeipzig[/url]Dirk Van Esbroeck, CC BY-SA 3.0 <https://creativecommons.org/licenses/by-sa/3.0>, via Wikimedia Commons