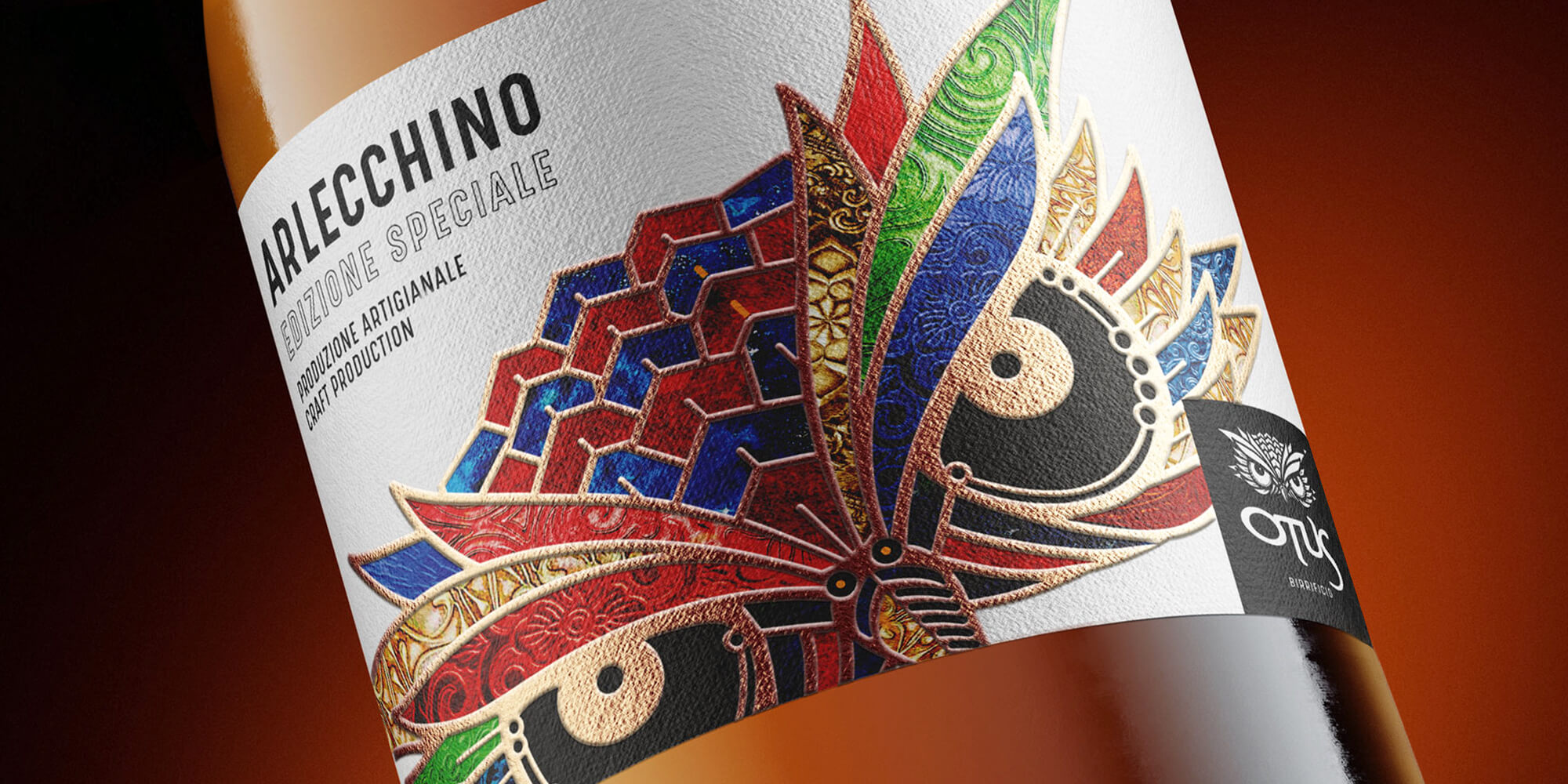 Arlecchino, an Otus special edition craft beer
New in October 2022: we introduce a special-edition keller, dressed in the colours of the stock character from Bergamo.
Otus autumn is tinged with Harlequin colours: with its latest creation, the craft brewery takes part in the initiative "Birra della Bergamasca" ("Bergamo's Beers"), supported by Bergamo Chamber of Commerce. Here's why the logo "BERGAMO, Città dei Mille … Sapori" ("BERGAMO, City of the Thousands… Flavours") appears on the label, a seal of quality for typical local products.
The initiative represents a part of a wider event, "Bergamo and Brescia, Italian Capital of Culture 2023", that will be an occasion for the two cities in Lombardy to showcase the cultural heritage of an extraordinary territory both on a national and international level, including also its enogastronomic richness.
« We wanted to take part in this historical event that celebrates culture with a special-edition beer» states Giampietro Rota, Otus Sales Manager: « Our keller seemed to be the most suitable choice, it is a 100% Italian beer and, while choosing raw materials, we favoured a short supply chain where possible, also from the standpoint of environmental sustainability: yeast and barley are produced just some kilometres away from our headquarter in Seriate. Barley in particular is an Otus selection cultivated exclusively for our beer».
Arlecchino is a bottom-fermented beer with a rustic look, slightly veiled. It shows an amber gold colour with a creamy ivory foam (EBC 10). Aroma is characterised by cereal and honey sweet notes coming from Pils malt, that are merged with the herbaceous and spicy ones coming from two Italian hops, Futura and Aemilia, that balance the initial elegant and complex malty taste. An essential beer, easy to drink and versatile in pairings.
«We asked to Mete agency to design a special label for Arlecchino. The owl, Otus trademark, is here merged with Arlecchino mask to pay homage to such an important event for the territory in which we produce our beer. The design is enhanced by a gold foil, an elegant packaging both for those who would like to keep a pleasant memory of this initiative and for those who would like to make a gift during the festivities. Moreover, 75 cl bottle is perfect to be opened with friends.» [Anna Cremonesi, Otus Marketing Manager]
If you cannot find it at your pub, you can buy it at our shop in Seriate (BG). If you cannot reach us, please send us an e-mail and you will receive a link to access our home delivery service.