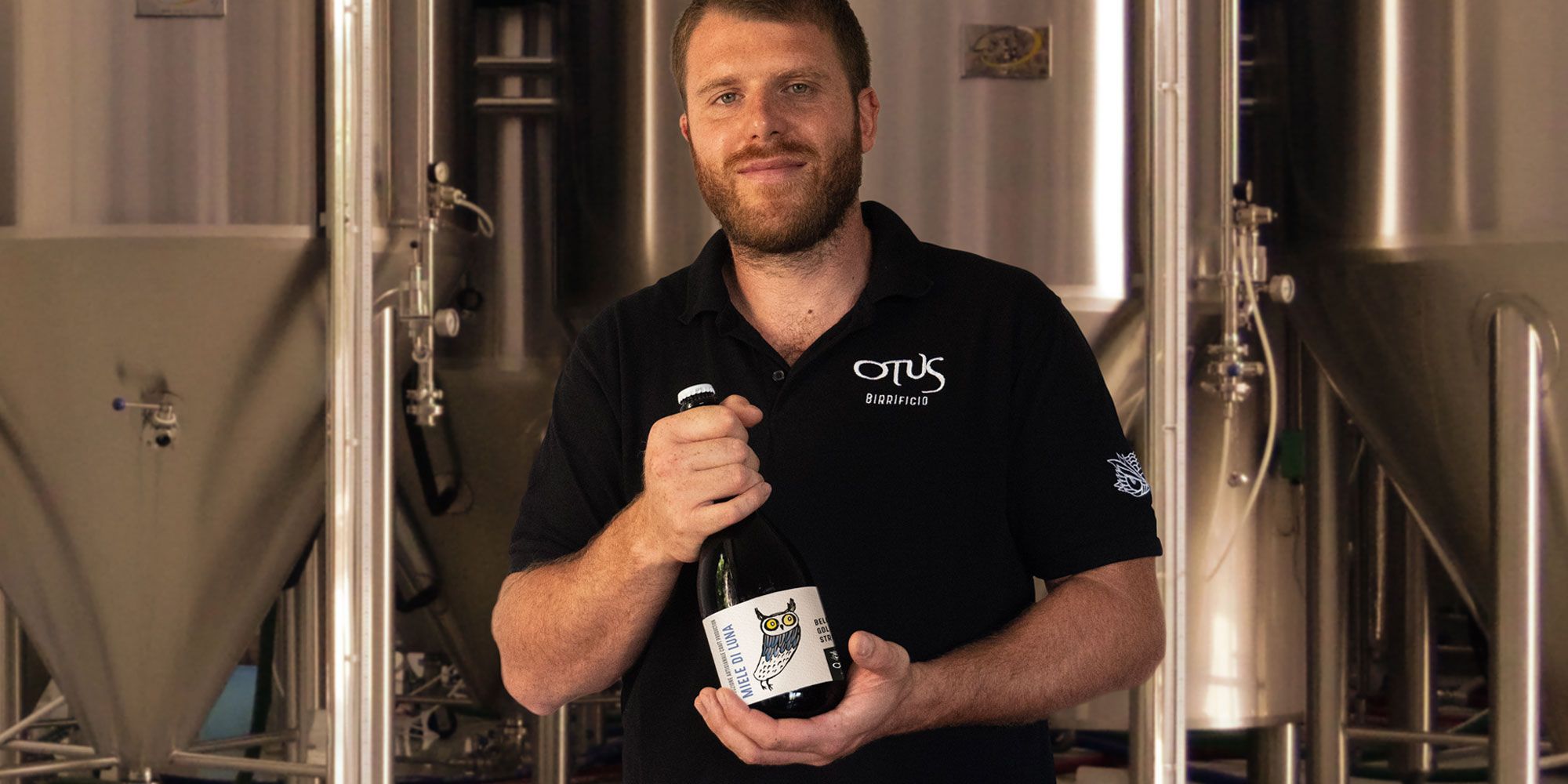 Otus Belgian Golden Strong Ale has a new name: Miele di Luna
Those who are used to enjoy Winter Moon during Christmas holidays, this year will find a seasonal beer they already know and appreciate, but with a new name: Miele di Luna.
Anna Cremonesi, Otus Brewery marketing manager, explains the choice to change the name to one of the most appreciated beers by our customers: «From the establishment – in 2014 – until today, we have forged a strong relationship between the territory in which the brewery is based and production, both in terms of raw materials and semi-finished products and of cultural ties.
Moreover, in 2021 we carried out a research to find a local farmer that could produce barley for OTUS while respecting chemical-physical and organoleptic parameters we set, aiming at producing excellent malts for the production of our beers. All this also in order to shorten the supply chain benefitting the environment. For these reasons, the choice made in the past to name some beers in English turned out to be a communication limit. On the other side, the decision to modify the name Winter Moon into the oneiric but super Italian Miele di Luna is in continuity with recent creations like Ambranera, Perla d'Orzo and Sole e Sale: names that express the craft and popular character of our brewery. It cannot be ruled out that we will carry on this rebranding operation for other OTUS beers too, that today have an English name».
Miele di Luna draws inspiration from the tradition of Christmas beers, typical in some Northern Europe regions, widespread especially in Belgium.
«Taking inspiration from abbey beers, I tried to obtain a product with a rich and complex taste, a seasonal beer with important organoleptic characteristics».
[Alessandro Reali, Otus brewer]
Miele di Luna is a full-bodied seasonal craft beer with a strong temper, in which delicate malt perfumes reminiscent of in-spirit red fruit and sweet vanilla and banana aromas typical of Belgian style are averaged by a dry end. A Belgian Golden Strong Ale with a moderate ABV (6.8%), velvety, rounded and pleasant to the palate, with a fine but compact, adherent and persistent foam, perfect as table beer but also for conviviality or meditation moments. Valuable malts contribute to its enchanting taste, that are Pils, Vienna, Abbey, Aromatic, Caraamber and Caraaroma, to which rock sugar and Saaz hop are added.
Winter beers have always been appreciated and are perfect for cold nights; for this reason, Miele di Luna is perfect to be tasted by the fireplace or as a gift for Christmas. In addition to the 75cl bottle, this year it is available also in 33cl format. To complete the range, 24-litres keg has come back. You can enjoy it at pubs that serve our beers; if you cannot find it in your favourite pub, you can buy it at our shop in Seriate (BG) in Via Rumi, 7. In case you cannot reach us, send us an e-mail and you will receive a link to have access to our home delivery service.