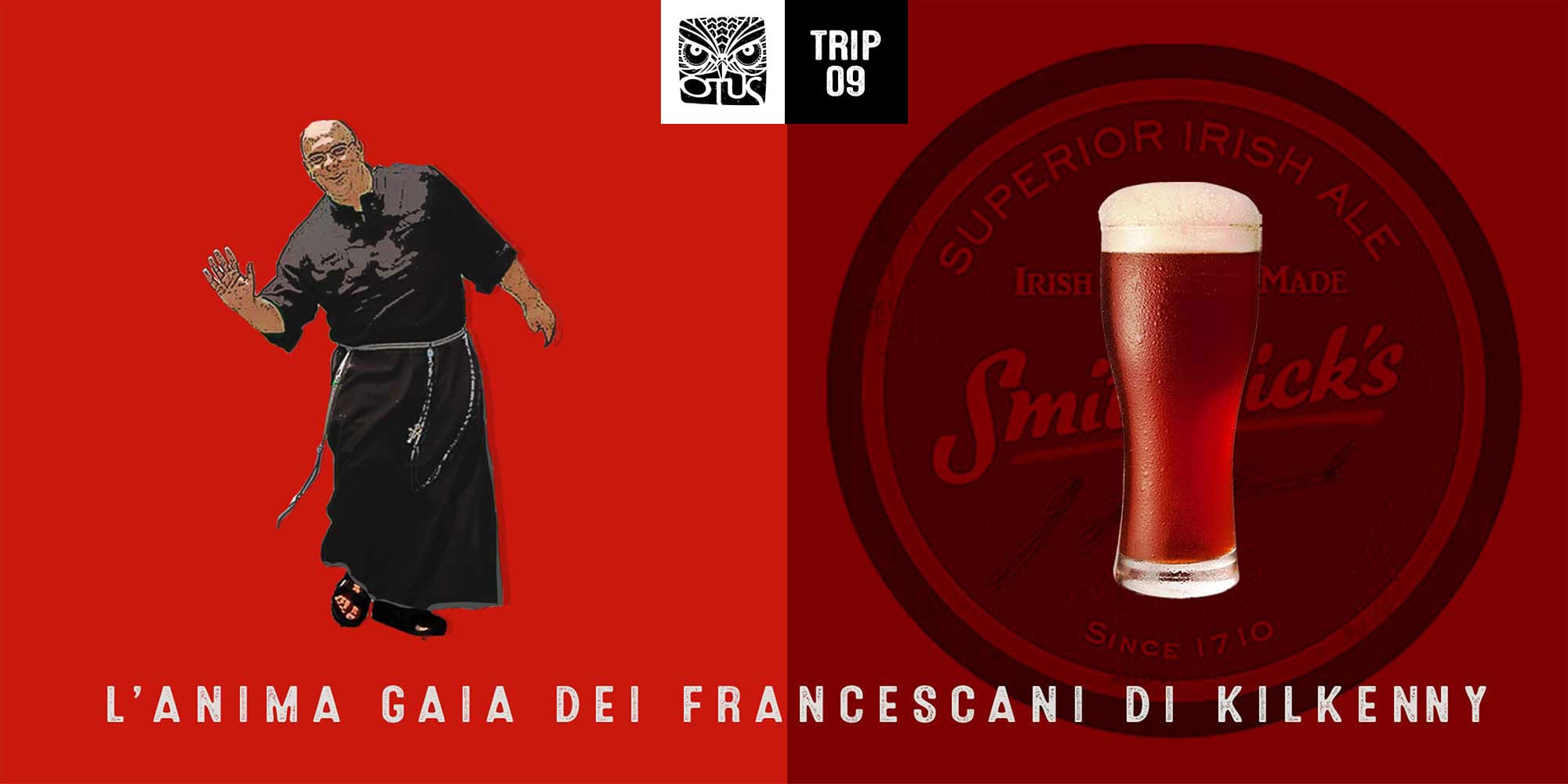 Red Ale Beer | stories and myths from beer-producing Ireland Trip
Red Ale origins are a beer myth, the first records are Celtic, but modern red beers were born in Kilkenny, in the Franciscan abbey. 
lack or red? This chromatic duality effectively depicts the treasure that Gaelic beer tradition offered to the world: Irish Stouts and Irish Red Ales. If the "black" one is recognisable in the Guinness brand, Irish red beer brands are not so famous. Otus Trip will take you on the emerald island to discover their origin. Follow us!
Before starting our time travel, to better frame the events, we will try to identify the essential organoleptic traits of this beer style.  
Perfumes, taste and aspect of Irish Red Ale.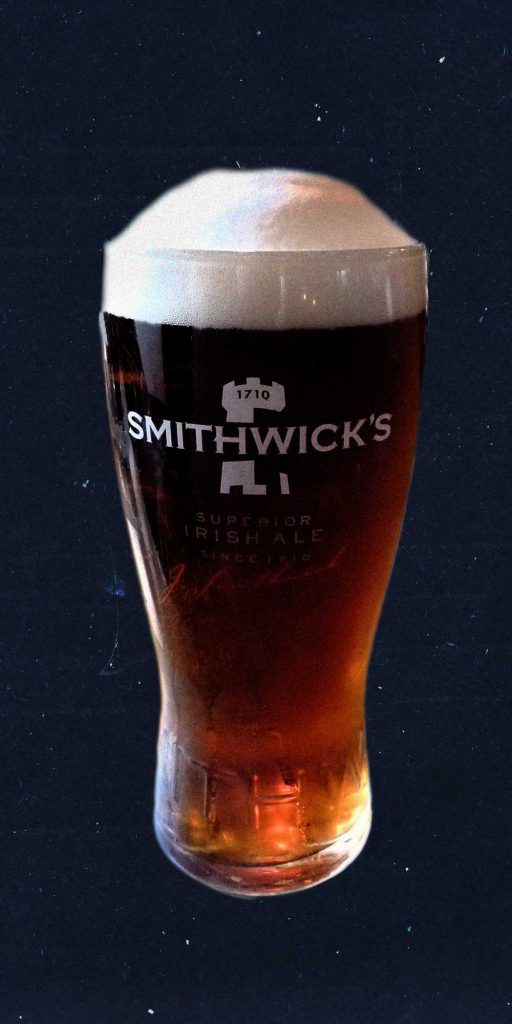 Coppery and amber colours, white-beige fine foam. The aroma is ruled by warm, fruity, malty tones with a dry end. Malted-caramel taste and a butter note (deriving from Diacetyl, an English yeast fermentation product); hop presence is subtle. Medium-low, soft and velvety body. Alcoholic content normally between 3.5% and 4.5%. 
Cruithne red ale by Dorind.
The first written record about a red Irish beer can be traced in a poem that was written between the Eighth and Ninth Century. Beer was produced by Cruithne tribe from Dorind, in Kerry, among the ingredients we could find heather and bog-myrtle. Recent Irish Red Ales are originated from English Bitter and Pale Ale, not from the ancient Celtic beer. Their story started in Kilkenny, when in 1710 Smithwicks Brewery created a "red beer" characterised by a taste that values malt flavours, in which hop plays a secondary role. 
1226, Franciscan Friars Minor landed in Ireland. 
To understand what happened during the Eighteenth Century and the importance of John Smithwick in the Irish Red Ale history, we need to jump back in time to Late Middle Ages, when in 1226 some Franciscan Friars Minor landed on the island.   
Fourteenth Century, Kilkenny Friars became brewers.
Francis disciples settled on Nore River banks, where today we find the gracious city of Kilkenny, and between 1231 and 1234 they founded St.  Francis Abbey. In some decades' time, the abbey became a huge complex and during the Fourteenth Century, even though they were exponents of the Mendicant Order, they decided to support themselves by producing beer. "Liquid bread" helped facing fast, while selling it contributed to financing the abbey building and decoration.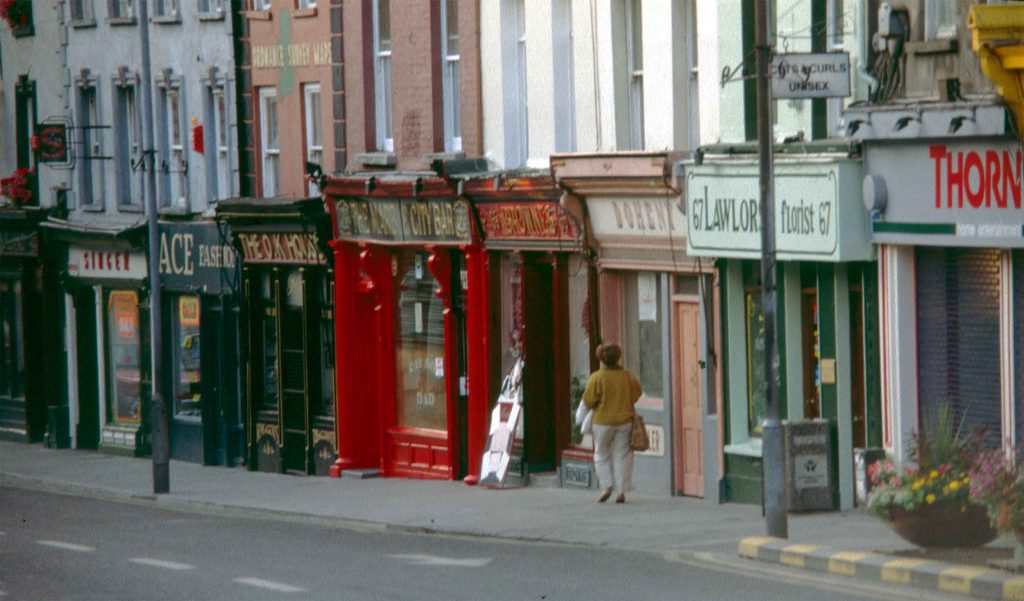 Kilkenny | Gerd Eichmann, CC BY-SA 4.0 <https://creativecommons.org/licenses/by-sa/4.0>, via Wikimedia Commons
1550, St. Francis Abbey beer production was hindered by the English Reformation.
Everything was going well until the second half of the Sixteenth Century, when the English Reformation led to the enactment of laws against Catholics, that caused problems to Kilkenny monks too, that were repeatedly expelled from the abbey. Beer production was stopped. Alternated periods followed, in 1776 there were only two friars left, the last one died in 1829.  
Kilkenny beer, between Celtic and Christian spirituality.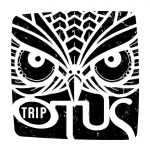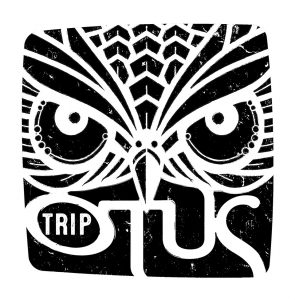 It was natural that friars were inspired not only by the ascetic spirituality of the Assisi saint, but also by the desire of harmony and integration. Beer production, that became a persistent activity, was elevated to a water purification ritual
(in fact, the boiling phase represents a fundamental step in the beer activity and often contributes to water sterilisation, because water near friaries was often stagnant and anthropic concentration was compromised). Christian friars symbolically took the role that was played before by Druids, who kept beer secrets and recipes and relative rituals during the Celtic epoque.
We do not know exactly which type of beer was produced in Kilkenny, it seemed to be pale, but we like to imagine that the production method derived from a-thousand-year-old Celtic beer tradition and that friars had been Cruithne brewers heirs, about whom the poem dealt with. 
1710, John Smithwick built St. Francis Abbey Brewery and created the first modern Irish Red Ale.
At this point, let's take a step forward in time to 1710, when the businessman John Smithwick decided to build its own brewery on the ruins of the medieval one of St.  Francis Abbey in Kilkenny and started producing the first modern Irish Red Ale. To understand the event historical meaning, we need to consider that during the Eighteenth Century most of the beer that was drunk on the island was imported from England and Scotland and English Pale Ale and Bitter taste influenced Irish habits. Therefore Smithwick created a beer with an Ale style, but bitterness deriving from hops was indistinguishable and was balanced by the one produced by roasted malts. The recipe was probably influenced by the fact that roasted malts were cheaper than the pale ones, but we cannot exclude the clear cultural influence: in the beers from Gaelic-speaking countries hop taste plays a secondary role even today. To sum up, Smithwick fixed the fundamental characters of Irish taste, where malts are always protagonists. Red amber colour of its Red Ale, deriving from roasted barley, will have become an icon.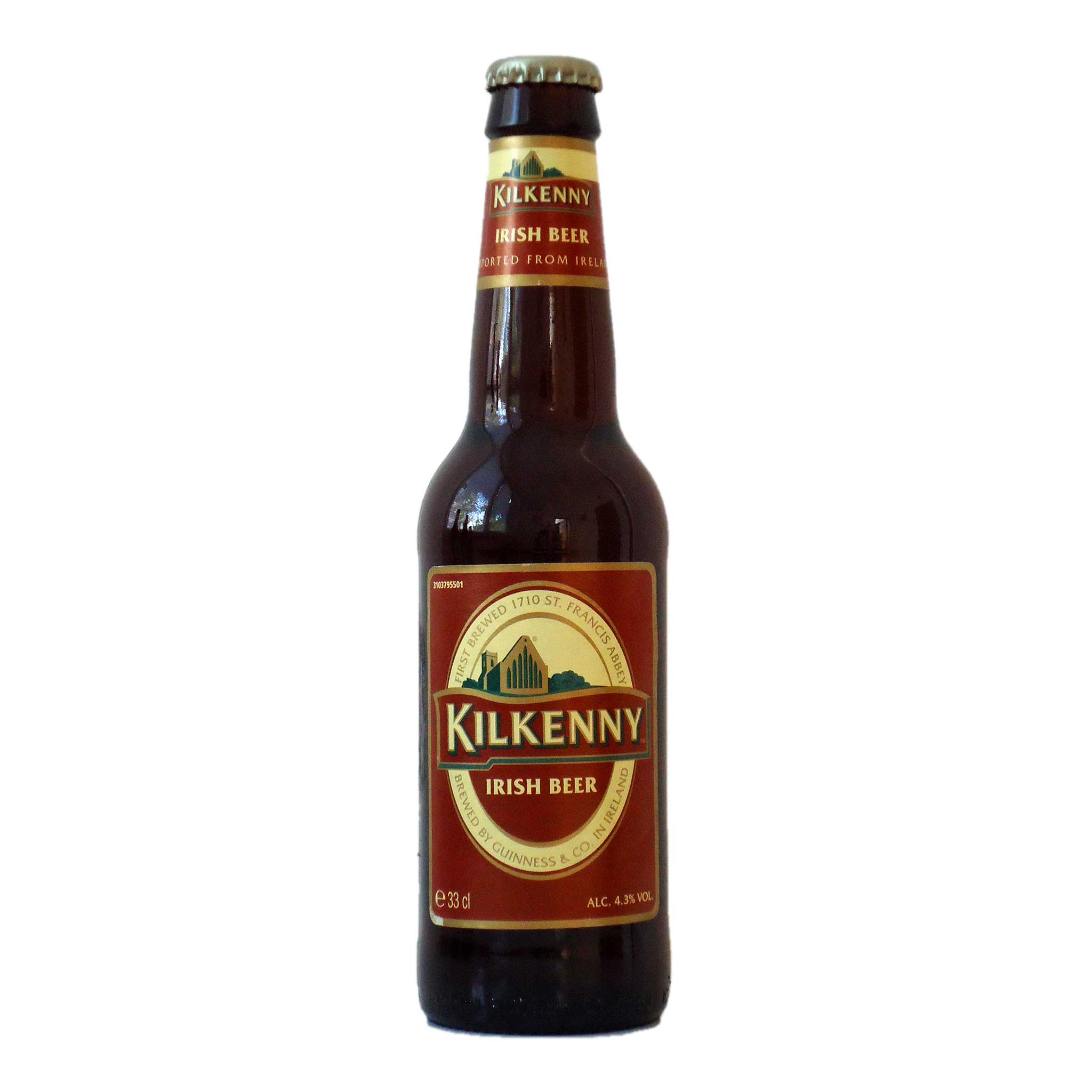 LeeKeoma, Public domain, via Wikimedia Commons
1964, George Henry Lett created the mythical Enniscorthy Ruby Ale.
To close this brief reconstruction of Irish beer origins, it is necessary to take another time warp to meet another key personality of the beer history we are telling you: it is George Henry Lett, founder of Lett's Brewery in Enniscorthy. This brewery created the mythical Enniscorthy Ruby Ale in 1864, another red beer produced until 1956.  
Twentieth Century: multinationals acquired Irish Red Ale precious historical brands.
In 1965 Smithwick family sold the company to the mogul Guinness that put the Irish Red Ale on the market with the brand Smithwick's Red Ale. It is now property of the multinational Diageo. In 2013 the brewery was moved to Dublin and the Kilkenny beer history that started eight centuries ago with mendicant friars went down in history and entered the sphere of beer myths (until few days ago it was possible to book a tour in the brewery, now it seems that the ancient Smithwick's Brewery doors are closed forever). 
The right to use the Killian brand passed to the French Pelforth Brewery (Heineken) and to the American Molson Coors. Both declare to be the real interpreter of the original Ruby Ale recipe. In reality they produce beers that are really different among each other and from the original Irish one. Killian labels actually disappeared from the emerald island and are now famous in France and America with the name Irish Red by George Killian (a George Henry Lett descendant). 
OTUS Red  & Go, an Irish Red Ale with an Irish character. 
We do not know what the taste of original Red Ale was, multinationals produce it with a low fermentation method, while Smithwick's and Killian beers were high-fermented beers. 
Red & Go, the Irish Red Ale produced by OTUS, is a high-fermented beer with an alcoholic content of 5.5%; here how the brewmaster Alessandro Reali describes it:  

"In Ireland the beer predominant component is malt, while hop flavour is always light, as in Scotland. A tradition that is affected by climate and historical-cultural substrate in the Gaelic area. Now that the Anglo-Saxon world is involved in the "craft revolution" too, IPA, Porter, Stout and Red Ale are produced almost everywhere in Great Britain and Ireland notwithstanding the "classical" standards, using local raw materials and unusual ingredients. Our RED & GO is inspired to Irish Red Ale style too, but with a taste in which hop is slightly marked if compared to standards. The long aging phase in cold places, typical for Lager or Dusseldorfer Altbier, confers that hybrid character that connotes contemporary craft production".