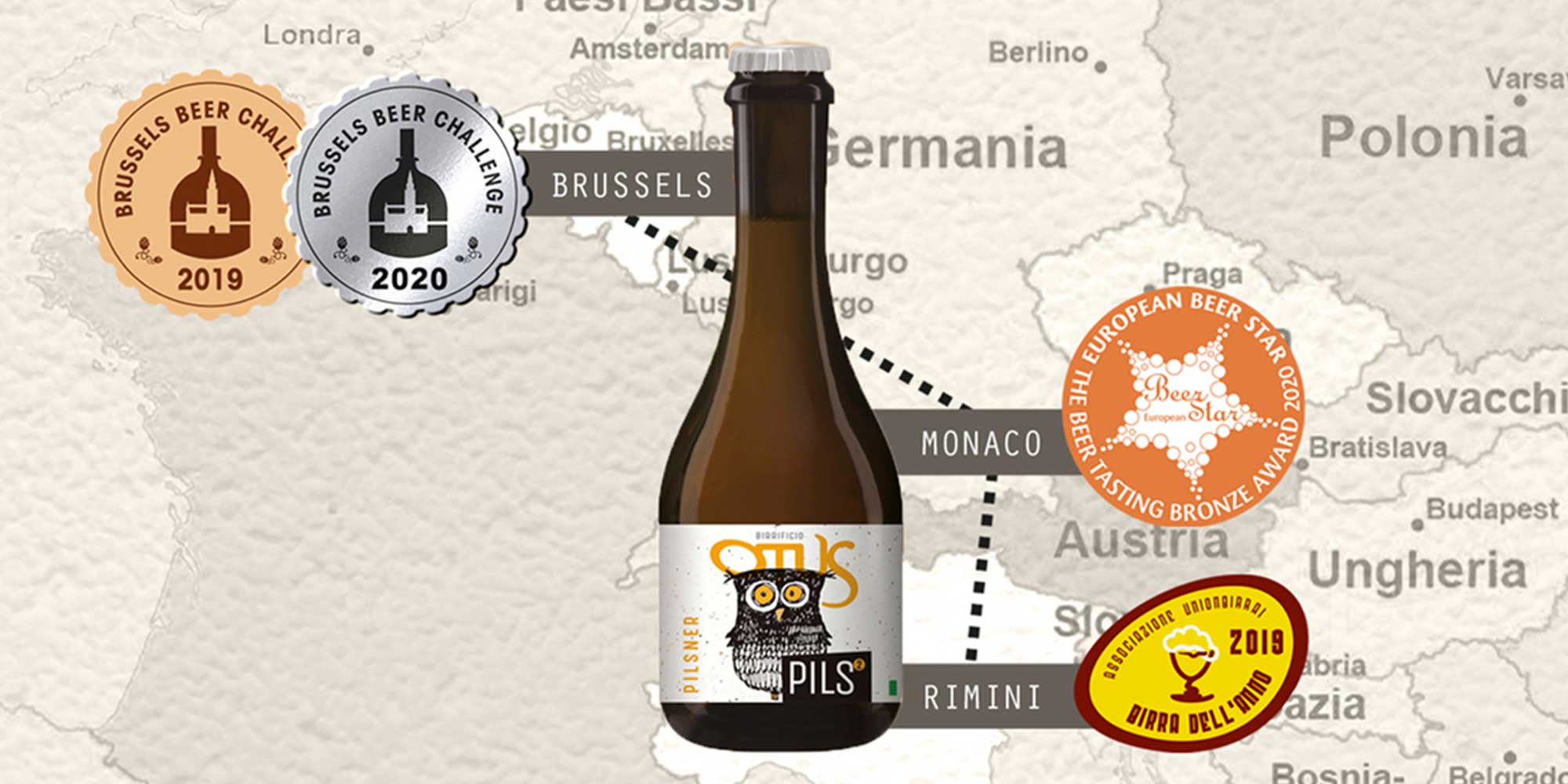 Brussels Beer Challenge 2020: silver medal to Otus Pils
Our PILS ranked second in the 4.3 Category German-style Pilsner.
A new OTUS success during international beer contests: Brussels Beer Challenge 2020 bestows a silver medal upon owl's German-style Pilsner. A silver medal was also awarded to OTUS B5 in 4.10 Category Lager Helles. Bergamo's craft beer produced in our brewery in Seriate is appreciated by international judges, the two silver medals, that have just been obtained in Belgium, can be added to the recent ones received in Germany some days ago and to the ones in Barcelona last April.

Our beers' recent several successes during the most prestigious international contests are such that we invite you to give a look at our medal showcase, where you will find the list of all our awards. Below we retrace only PILS2 successes only.
OTUS PILS
"Craft beer excellence is measured also by its pleasantness to the taste of a large consumer segment. The numerous and important successes in European competitions confirm that OTUS production choices are correct. I address my warmest congratulations to Alessandro Reali, our brewmaster, whose sensitivity to taste evolution is reflected in the appreciation of the most authoritative international judges".
[Giampietro Rota | OTUS Sales Manager]

Brussels Beer Challenge 2020, now in its 9th edition, took place in Belgium, a protagonist country in beer history, whose beer culture was recognised by UNESCO as intangible cultural heritage of humanity. The Brussels beer contest is undoubtedly a reference to monitor craft breweries' trends and excellences.

For an entire week, from 30th October to 5th November, despite the Covid-19 pandemic, beer aficionados' eyes from all over the world have been on the event. The award ceremony was awaited both by those who work in the industry as producers or retailers and by passionate drinkers and craft beer tasters.

This silver medal follows the Excellence Certificate obtained by PILS2 during the same contest in 2019. In order to grasp the importance of these quality acknowledgements, we have to remember that judges – dozens of super-experts from all over the world – carry out a blind-tasting, that is they do not know the name and the origin of the beer they are judging. It is thus clear, after 4 places on the podium in 3 different beer contests, among the most important ones in the world, that OTUS Pilsner placed itself among the best ones by far.

Moreover, if we think about the fact that Pilsner-style beers are among the most produced and widespread beers, it is easy to understand how much our staff is proud of creating this beer, excellent from an organoleptic point of view but, in the meantime, pleasant to the taste of the most large consumer segment.

Taste the multi-award winning OTUS PILS2 in those pubs that tap and sell beers with the owl's brand.