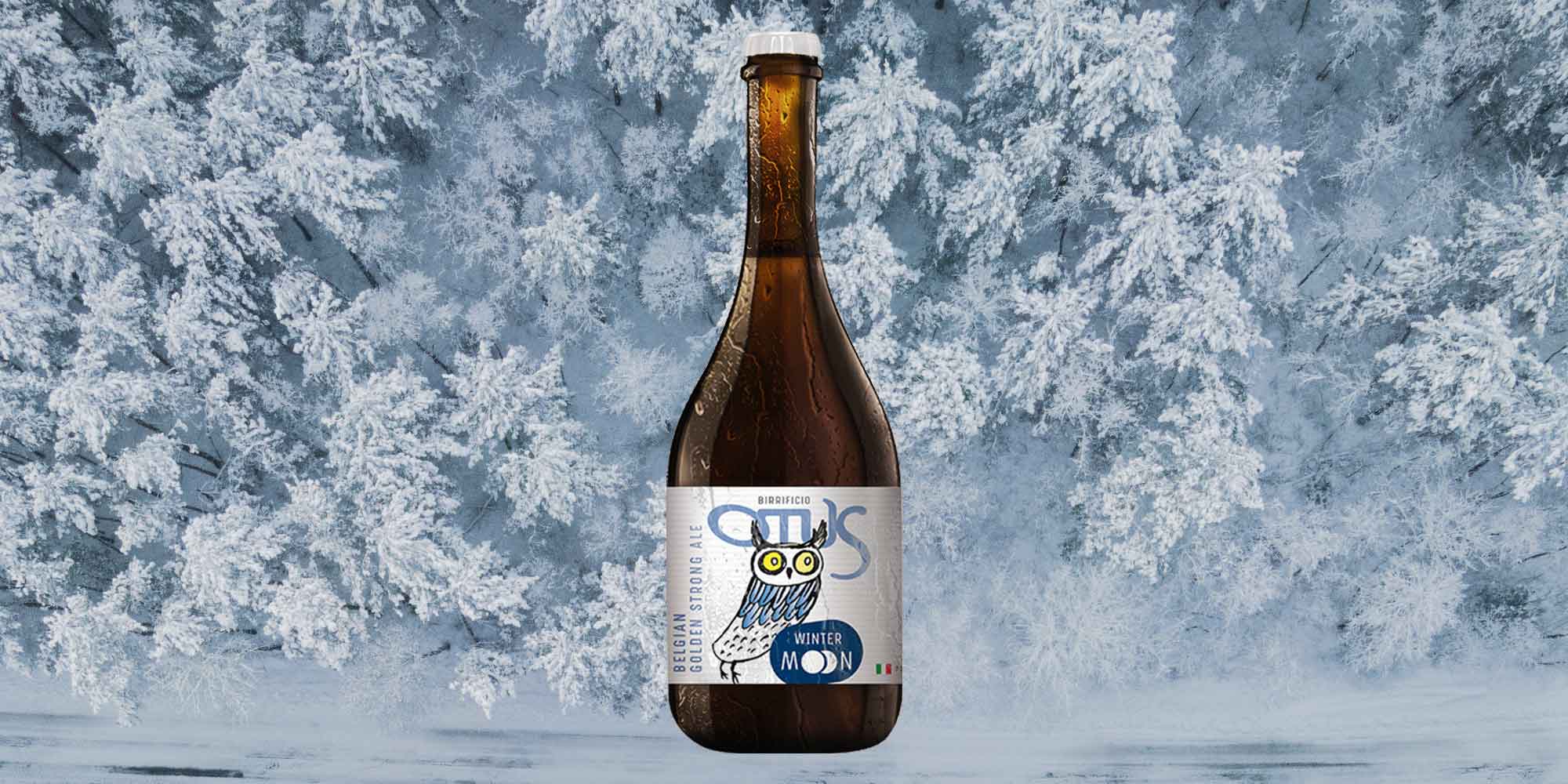 Winter Moon: our Belgian Golden Strong Ale for the winter
Winter Moon is the Belgian Golden Strong Ale from OTUS Brewery, a winter double malt beer with balanced bitterness and a sweet and mellow taste.
For Christmas we suggest you a beer with a strong flavour and a moderate alcoholic content (6,8% Vol.) that stands out for an intense light amber colour that reminds of home fireplace during winter nights.

Otus Winter Moon is a full-bodied craft seasonal beer with a robust character, in which delicate perfumes of malts, that recall of alcohol-infused red fruits and sweet aromas of vanilla and banana, typical of the Belgian style, are mediated by a dry end.
Fine malts contribute to its charming taste like Pils, Vienna, Abbey, Aromatic, Caraamber and Caraaroma, to which candy sugar and Saaz hop are added.

A soft, rounded Belgian Golden Strong Ale, pleasant to the palate, with a fine, compact, relevant and long-lasting foam, that is perfect to be drunk during meals but also for meditation and conviviality moments.

Winter Moon draws inspiration from a centuries-long tradition of Christmas beers, typical in some regions of Northern Europe and particularly widespread in Belgium. Winter beers have always been appreciated by beer-aficionados and are perfect for cold winter nights.

«Drawing inspiration from abbey beers, I tried to obtain a product with a rich and complex taste but easily drinkable, a seasonal beer with important organoleptic characteristics, however pleasant for less experienced palates too. So, Winter Moon is a beer in perfect OTUS style».

[Alessandro Reali – OTUS brewmaster]

With Winter Moon we would like to celebrate our craft philosophy, aimed at producing quality beers with a strong, original and snappy character, that can be appreciated also by a wide and heterogeneous public. Winter Moon is an elegant beer, that conquers you with its sweet and mellow hints. A beer that is the result of elaborate research, perfect for the approaching festive season.

Are you ready to toast to the new year coming?